Carolina Mallol gave a talk in 7th Developing International Geoarchaeology Conference (DIG Conference 2017), held in Newcastle on September, about ERC PALEOCHAR lab work in micro-contextual analysis of organic matter.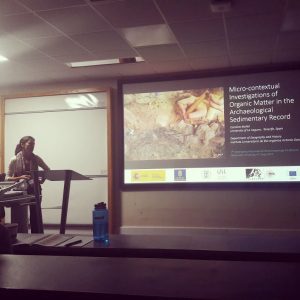 Rory Connolly submitted a poster entitled Preliminary results from a multiproxy palaeo-environmental investigation at a Middle Palaeolithic rock shelter (Abric del Pastor) in Alicante, Spain.
Lucia Leierer's work focused in A couple micromorphological and molecular study of combustion structure assemblages at the Middle Palaeolithic site of El Salt, Spain.